What are stainless steel check valves?
The stainless steel check valves are fundamental components for managing the flow direction of fluids as they prevent an inversion from occurring and limit the damage and problems that this phenomenon can cause within the system. These components are widely used within pumps and chemical plants, or applications in which it is necessary to avoid in any way the return of the fluid conducted inside the pipes and there are various types depending on the desired application.
The operating principle behind these devices is simple and is guaranteed by means of a disc, ball or other element bound by a guide and a spring. When the fluid pressure is extremely low or even negative (leading to flow in the opposite direction ), the valve closes and does not allow the passage in the opposite direction to the desired one.When, vice versa, the pressure is high, the valve is open and allows the normal flow of the fluid carried by the pipeline.
The temperatures of use can reach 180 ° C, but also 240 ° C for some particular models, allowing to cover a wide range of applications. Mounting in the correct position (vertical, horizontal or inclined) and the minimum guaranteed pressure are essential characteristics to avoid malfunctions or dangerous instabilities.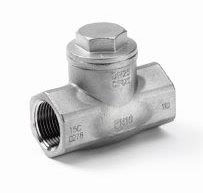 The materials with which the check valves are made
The fundamental material for the realization of the check valves is stainless steel, i.e. a steel with a high chromium and nickel content which guarantees both excellent properties from the mechanical point of view and high resistance to corrosion, a fundamental characteristic in this type of applications where there is contact with a fluid and a particularly corrosive environment is generated.
Furthermore, the seal is guaranteed by polymeric or elastomeric materials which have high elasticity and the ability to deform under load, managing to recover their original shape completely and instantly. Among the main ones it is possible to include:
- Viton: is an elastomeric material based on FKM, or fluorinated rubber, which has excellent thermal and chemical resistance, as well as high levels of mechanical resistance;
- NBR: is the main among the nitrile rubbers and has excellent characteristics from a chemical and mechanical point of view. It also resists aging and low temperatures well, while it is not recommended in high temperature applications;
- PTFE: is a thermoplastic and semi-crystalline polymeric material which has a high melting temperature equal to 327 ° C and is therefore suitable for temperature applications. The best known trade name is Teflon (which is the material used for non-stick pans, thanks to the very low coefficient of friction) and has excellent chemical, electrical and wear resistance characteristics.